National ESIGN Day. A visual journey through the history of signatures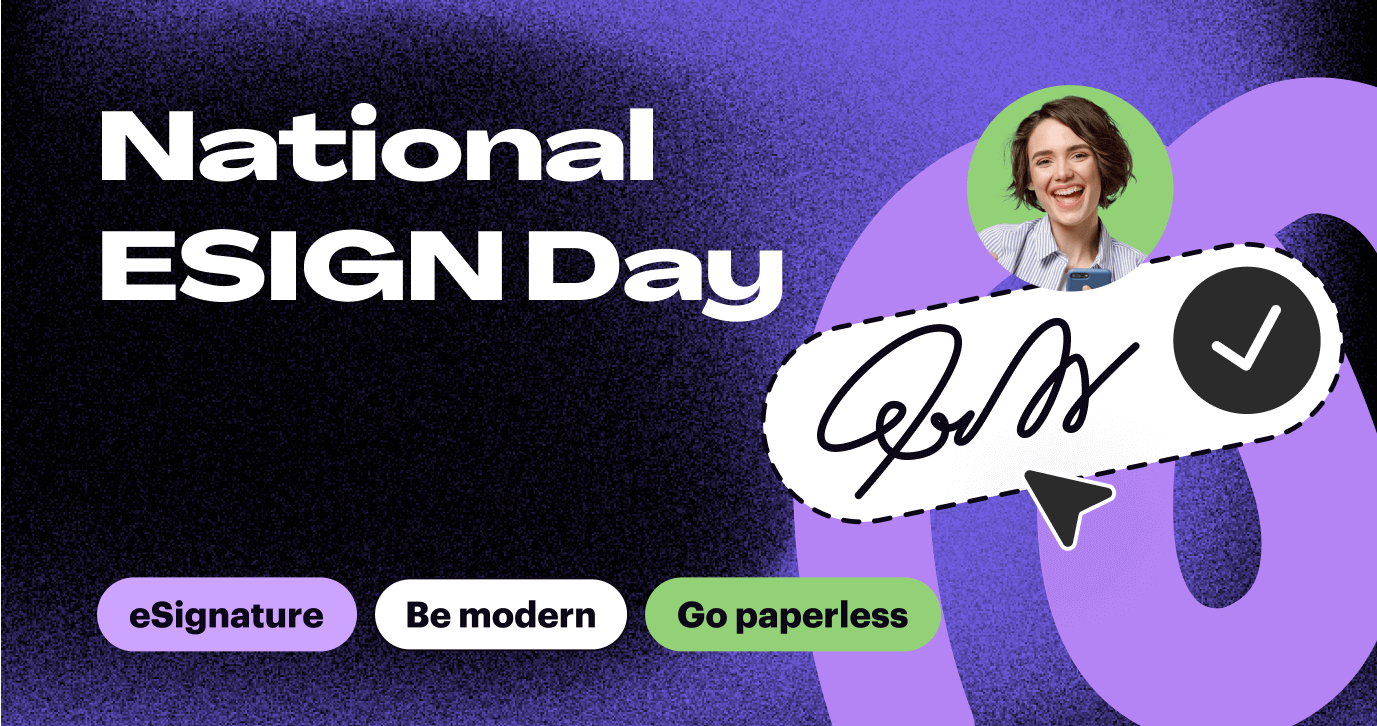 Electronic signatures have been transforming the way we do business for over two decades. While they may be taken for granted today, there was a time when they lacked legal recognition as a valid form of signature. However, the landscape changed on June 30, 2000, when the ESIGN Act was signed into law, granting electronic signatures the same legal status as traditional ones. Since then, eSignatures have become an integral part of modern business, saving companies time and money while making the process of signing documents easier. In this blog, we'll talk about the role of eSignatures in modern business transactions and explore the visual history of signature from its inception to this day.
The integral role of electronic signatures in modern business
Electronic signatures, commonly known as eSignatures, provide a secure and legally binding method of signing contracts, agreements, or other important documents. Their applicability spans across diverse industries, including real estate, finance, healthcare, and government. The ESIGN Act made eSignatures legally valid for nearly every type of transaction in the United States. However, it's crucial to note that not all countries have implemented similar laws, necessitating research to ensure the legal recognition of electronic signatures when dealing with international entities.
In addition to granting legal validity, the ESIGN Act established crucial guidelines for utilizing electronic records and signatures. It mandates that both parties involved agree to the use of electronic signatures and possess the necessary hardware and software capabilities to execute them. Furthermore, the Act ensures that electronic signatures cannot be denied legal validity solely because they are in electronic form. This facilitation has significantly aided businesses in adopting eSignatures, expediting processes like contract approvals and document signing.
One of the most notable advantages of eSignatures lies in enhanced document security. While traditional signatures are susceptible to forgery and replication, eSignatures employ advanced encryption technologies that fortify the integrity of the signature and the associated document, preventing tampering. This becomes particularly vital when handling sensitive or confidential information.
For businesses and individuals seeking to implement electronic signatures, numerous options are available. Many online document signing platforms offer eSignature functionalities, including popular eSignature alternatives such as signNow, DocuSign, AdobeSign, and others. These platforms provide a wide array of features, including document tracking, multi-party signing, and enterprise-level security. They also offer the convenience of cloud storage, enabling access to documents from any location at any time.
Tracing the timeline: A visual expedition through the history of signature
Electronic signatures have revolutionized the way we conduct business for over two decades, bringing convenience, efficiency, and enhanced security to document signing. To commemorate National ESIGN Day, we invite you to explore our infographic, which takes you on a visual journey through the captivating history of signature.
From their humble beginnings to their current widespread adoption, this infographic highlights key milestones, legal developments, and the transformative impact of eSignatures on various industries. Join us in celebrating the ESIGN Act and the remarkable progress it has spurred, shaping the future of business transactions worldwide.
Present Day
signNow empowers over 28 million people at companies across the world to move fast with everything they need to send and eSign their documents. Increase productivity with document workflows, impress customers, and save money while maximizing ROI with signNow.
The signNow solution is part of the larger airSlate comprehensive document workflow automation platform that revolutionizes businesses by enabling anyone to create stunning documents and automate document workflows. Our platform scales to fit anyone's needs, from simple tasks like editing PDFs and creating forms to the more complex ones like eSigning documents and automating workflows. airSlate is everything you need to get your documents done.
Celebrate National ESIGN Day the right way — Explore the capabilities of signNow for your business
Originally published June 2020, updated for accuracy and comprehensiveness in June 2023
Contact us to learn more about signNow
Fill out this form and one of our sales representatives will contact you shortly. We'll provide you with more information about signNow and help you integrate eSignatures into your document workflows.
Thank you for subscribing!
Thank you for subscribing! You'll be the first to know all signNow news, trends, and updates. Stay tuned!
Sign up for our newsletter
Get all the latest signNow news directly to your email